BOOK A SERVICE | BRING A BLANKET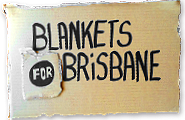 We are collecting blankets as part of the Blankets for Brisbane initiative.

During the months of June and July, book your service,
bring your donation blanket and
go into the draw to WIN:

– a SEASONFORT Backpack Bed (swag),
– a Seven Slot hoodie, and
– your next minor vehicle service at Seven Slot free of charge!
We hope to collect as many blankets as we can
to give some warmth to those who need it this winter.
Book your vehicle service today. Online HERE or phone: (07)3801 8185.
Draw announced and collection at Seven Slot ends 27/07/18
www.blanketsforbrisbane.com.au | www.sevenslot.com.au | www.seasonfort.com